Crowd lending in Fourmies: a ray of sunshine for sustainability
"With these two solar installations, Fourmies is taking another step towards energy autonomy. Allowing citizens to contribute financially is one way for them to be actors in the energy transition by our side."  
A new solar project
As part of the Third Industrial Revolution trend and a number of European projects, the City of Fourmies is developing its network of photovoltaic plants. Thanks to the European programme Solarise, Fourmies has installed nearly 1,000m2 of photovoltaic panels in 2020, including those of the Léo Lagrange and Marie-José Pérec gymnasiums.
Citizens' investment
Fourmies had already successfully carried out a crowd-lending operation on Lendosphere to fund a first solar roof, installed on two school rooftops. That is why it decided to call on its citizens once more to contribute to the financing of its energy transition.
The benefits
These projects benefit the municipality considerably:
Economically, local businesses are renovating gymnasiums and installing solar panels, creating jobs in the process.
Financially, the households lending money will earn interest.
Environmentally, local and renewable solar energy production will increase.
Educationally, the town is raising awareness among young (and not so young) citizens, by placing these solar power plants in plain view, on the roofs of two gymnasiums.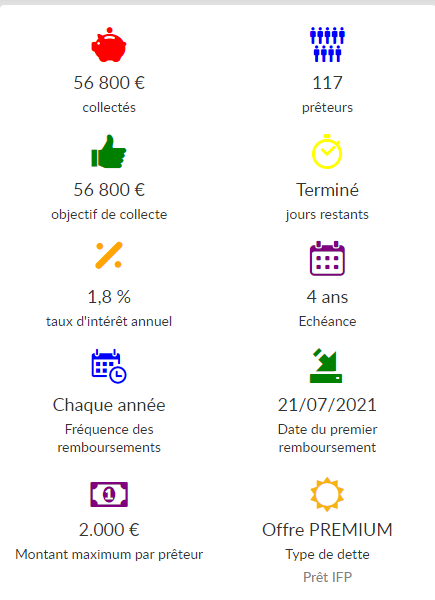 Reimbursement
The investment necessary for these solar installations, with a total value of €143,000, is covered by European "INTERREG 2 Seas" and regional "FRATRI" grants. As a result, only €56,800 is financed by the Municipality itself. Through this crowdfunding campaign, it has enabled its citizens to contribute to this operation and enjoy the economic and environmental benefits of these installations.
The town of Fourmies will thus be reimbursing the lenders. As the risk of default by a French authority is rather low, the municipality was able to access a reasonable interest rate, also in line with the rate applied to local authorities, which was set at 1.87% in the 1st quarter of 2020.
This operation is structured as a four-year loan, consistent with the overall financing scheme for the installation (grants + loan).
Success
The operation was a massive success. The city raised the full 56,800€, from 117 contributors!
Extra information can be found here