A solar living lab for the University of Portsmouth (UK)
The University of Portsmouth is harnessing solar energy to use its Port-Eco House as a 'solar living lab' – a research facility to test, verify and refine complex energy solutions in evolving real-life contexts.
Solar photovoltaic panels have been installed next to the Port-Eco House, a three-bedroom property used for research into the energy efficiency and building performance of houses. A smart Tesla Powerwall battery has also been installed in the house, which allows excess electricity generated by the panels to be stored for later use.
Based in a former caretaker's lodge on campus, the Port-Eco House is used to conduct pioneering research into the physical and environmental performance of dwellings, including human interaction with the property.
The house's solar panels are being individually monitored, while the battery provides monitoring of the overall solar energy production, building load and input/export of electricity.
Three Tesla Powerwall batteries have also been fitted at the University's Future Technology Centre (FTC), a facility for engineering students and staff to explore today's new and emerging technologies. The building was already equipped with rooftop solar panels and photovoltaic windows.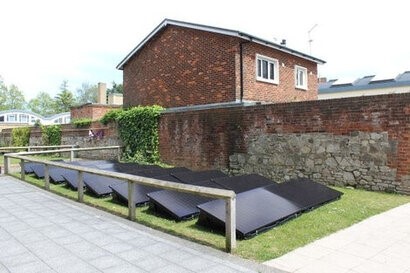 "With the combined work of the solar photovoltaic panels and the Tesla battery, the University's Eco House has become mostly self-sufficient in terms of its electricity consumption, which is around 10 kWh per day," said Professor of Power Systems Engineering, Victor Becerra. "At any given time, the electricity consumption of the house is being supplied by either the panels, the battery, or both. Any excess energy generated by the panels is stored in the battery and only very occasional import from the external electricity supply."
The monitoring data collected by the solar living lab will be correlated with data from weather stations already in place at the university. Together, all these data streams will enable research into various aspects of solar photovoltaic energy, including the synergy between solar power generation and energy storage, the efficiency of solar photovoltaic panels and mechanisms to enhance it, the effect of shade, weather and other environmental variables on solar power generation, and the techno-economic modelling of solar energy systems, among many others.
The solar living lab will be used by PhD students for their research and will support the training and projects of Master's and undergraduate students at the School of Energy and Electronic Engineering and elsewhere in the Faculty of Technology. Students in the new MEng/BEng (Hons) Electrical and Renewable Energy Engineering will particularly benefit from this facility.