Zoersel (BE) renovates the presbytery and informs their citizens
With the construction of the new village hall and the renovation of the current presbytery, Zoersel is entering the European Solarise grant programme of Interreg 2 Seas.
Together with various project partners, this programme wants to test and demonstrate innovative solar energy solutions on, among other things, historic public buildings, such as our old presbytery. On the roof, for instance, there will be thermal solar panels linked to a heat pump with an ice buffer system.
The project is also part of the Covenant of Mayors of 27 September 2016, in which the municipality undertook to reduce CO2 emissions by 40 % by 2030.
This international cooperation goes beyond the energy solutions for the new village hall. For example, Solarise is also studying other solar energy technologies and developing a guide on the subject that our municipality is contributing to. The intensive cooperation also supports the content of the municipal climate plan (which is still in the making) and will elaborate on certain details from it with an emphasis on solar energy.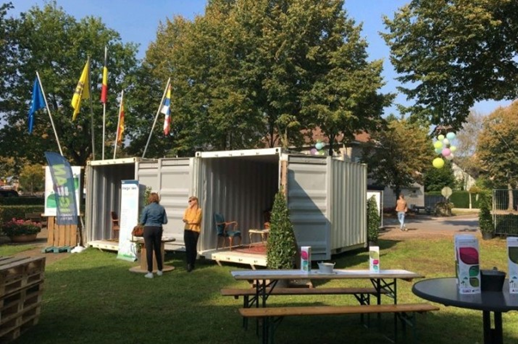 On Sunday 10 October, inhabitants of the municipality of Zoersel were able to attend the energetic information stands of the Futura Festival. The theme of this festival is 'sustainability', 'biodiversity' and 'saving energy in your home'. The municipality of Zoersel and Kamp C joined forces to set up a Kamp C and Solarise stand. Here, residents could get free building advice and were informed about the innovative solar energy solutions used in the presbytery and parish hall.