Solar scheme to help clean energy switch in Sussex (UK)
Solar Together Sussex is a group buying scheme that brings residents together to ensure they are paying the right price for high-quality solar panels and battery storage systems.
The latest round of Solar Together Sussex has been launched to help residents reduce their carbon emissions by generating clean electricity at home. Round 1 was so successful that it was decided to organise a second auction.
In the 2020 scheme, 347 installations are now complete, with another 300 installations due to be completed soon.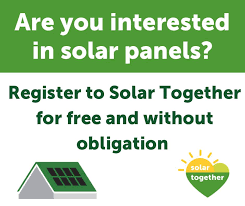 ​In the Autumn 2021 scheme, over 7600 households have now registered their interest. There is an increase of 19%, compared to the 6127 registrations from last year's scheme.
West Sussex County Council is managing the scheme on behalf of 16 local councils including Brighton & Hove City Council. In the second scheme, installers can offer batteries as well as solar panels, and future schemes may also offer installation of electric vehicle charge points.
The schema can be found here